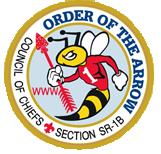 Due to the weather forecasts for this weekend, the section leadership has decided to cancel Beehive.
Osprey Express 2018 2nd Quarter
Pay your 2018 dues here:
http://www.yustaga385.com/event/2018-lodge-dues/2168369
National Order of the Arrow Conference (NOAC) will be July 30th, 2018 to August 4th, 2018 at Indiana University.
NOAC is the national gathering for the Order of the Arrow. There is great trainings, fun, patch trading, native american events and dancing, and much more.
Our contingent will leave a day or two before the start and return a day or two after the actual conference.
We only have 2 youth slots left. It is a $475 deposit to reserve your spot today
SUMMER CAMP WORKDAY AND MAKE-UP ORDEAL
June 1st-2nd
Come out to STSR and help get camp ready for summer camp.
We will also be doing our make-up ordeal that weekend.
There is no cost, but please pre-register so that we can have a count for meals
http://www.yustaga385.com/event/work-day-and-make-up-ordeal/2112920
2018 Chapter Rotation List

DUTY

Ordeal
Fellowship
Pow Wow

Kitchen

Appalachee
Oschambos
Choctaw

Dining Hall

Oschambo
Choctaw
Woapalanne

Colors, Grace, Religious Services

Choctaw
Woapalanne
Appalachee

Camp Clean-up

Oschambos