Spring Fellowship Registration
http://www.yustaga385.com/event/oa-spring-fellowship/1532125
Vigil Nomination Form are due at check-in of Spring Fellowship
High Adventure Scholarship Application
2015 High Adventure Scholarship Application (2).pdf
This is for all current memebers of the lodge.
2015 Osprey Newsletter
Pay your 2015 dues Here:
http://www.yustaga385.com/event/2015-dues/1589915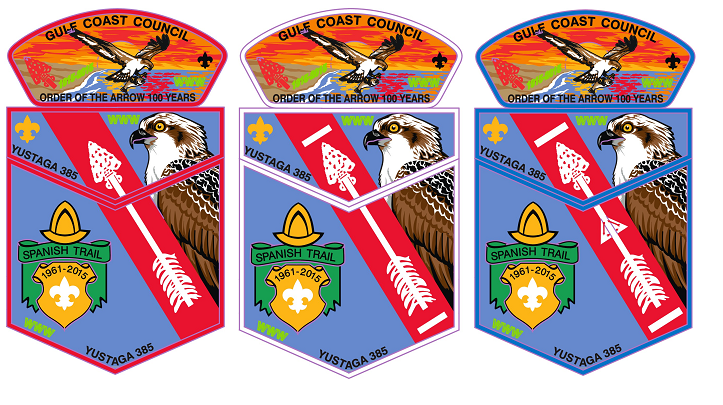 2015 NOAC FUNDRAISER PATCHES $45 for all 9 Patches($3 for Shipping)
$15 for all 3 CSP's ($1 for Shipping) Extra sets will increase shipping charge.
Available for pick up at the Council office after December 1, 2013
Click here to ORDER or call Jim Boksa @ the Council office 476-6336
2015 Chapter Rotation List
DUTY Ordeal Fellowship Pow Wow
Kitchen Oschambos Woapalanne Choctaw
Dining Hall Choctaw Oschambos Appalachee
Colors, Grace, Religious Services Woapalanne Appalachee Oschambos
NOTE: With Oschambos added back to the Chapter Rotation List, each Chapter will have a complete year off for a particular Duty. Duties rotate from Left to Right yearly.