LLD/Vigil weekend
October 24-25
Come and help plan your lodges future and get some great training.
All lodge officers, chapter officers, committee chairs, and lodge and committee advisers need to attend.
LLD will be finished by 5:00pm
All vigil members are also invited to come Saturday night for the vigil ceremony and fellowship.
No cost for LLD
$10 fee for vigil members staying for vigil weekend
http://www.yustaga385.com/event/lldvigil/1501757
Lodge Banquet
November 7th, 2015
5:30pm check-in, Program and meal at 6:00pm
Sacred Heart Catherdal, Pensacola
http://www.yustaga385.com/event/lodge-banquet-2015/1792508
BUY YOUR COPY OF THE NOAC BOX TOP POSTER
(Through October 1st and can only be done on-line)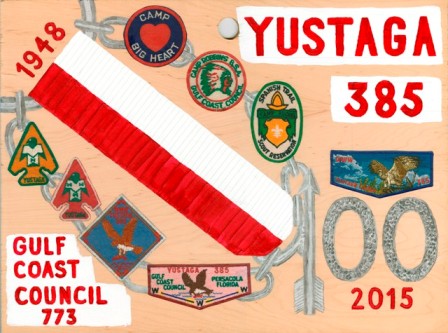 ORDER FORM
100th Anniversary Box Top Poster Sale
2016 Lodge Passes
Pay for all dues, your 4 lodge events, and your YNAW fees all at one time, and save money
$90 for youth event passes
$100 for adult event passes
http://www.yustaga385.com/event/2016-event-pass/1792511
Pay your 2016 dues Here:
http://www.yustaga385.com/event/2016-dues/1765123
2016 Chapter Rotation List
DUTY Ordeal Fellowship Pow Wow
Kitchen Woapalanne Oschambos Appalachee
Dining Hall Choctaw Woapalanne Oschambos
Colors, Grace, Religious Services Appalachee Choctaw Woapalanne
NOTE: With Oschambos added back to the Chapter Rotation List, each Chapter will have a complete year off for a particular Duty. Duties rotate from Left to Right and top to bottonm yearly.