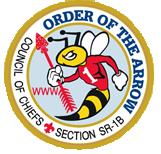 SECTION SR-1B CONCLAVE
April 28th-30th
Camp Alaflo
Come and enjoy a weekend of training, fellowship, games, patch trading, and more with the other lodges of Section SR-1B.
You can still register until March 24th, but you will not be guranteed patches and you can't order trading post items.
To register: http://www.yustaga385.com/event/conclave-2017/2067701
SPRING FELLOWSHIP
May 5th-7th
Come out to STSR for a weekend of fun, fellowship, and good food.
To register http://www.gulfcoastcouncil.org/event/2034580
OA WORKDAY AT STSR
Come out and help camp get ready for summer camp
Please register so that we can get a count for food.
To register: http://www.gulfcoastcouncil.org/event/2034758
Pay your 2017 dues here:
2017 Chapter Rotation List

DUTY

Ordeal
Fellowship
Pow Wow

Kitchen

Choctaw
Woapalanne
Oschambos

Dining Hall

Appalachee
Choctaw
Woapalanne

Colors, Grace, Religious Services

Woapalanne
Oschambos
Appalachee