1st Quarter 2019 Osprey Express
2019 Lodge Dues
To just pay your 2019 dues, go to?
http://www.yustaga385.com/event/2019-lodge-dues/2417786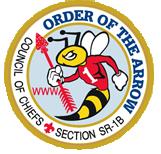 Section SR1-B Conclave
April 12-14
Camp Ti'ak in Mississippi
Come and join in fellowship, games, and fun with the other lodges of SR1-B in Mississippi and Alabama.
THE DEADLINE TO REGISTER FOR CONCLAVE
SPRING FELLOWSHIP
May 3-5
COME OUT FOR A WEEKEND OF FUN, FELLOWSHIP, AND GOOD FOOD
register at http://www.yustaga385.com/event/2019-spring-fellowship/2458248
NOAC 2020
NOAC 2020
The National Order of the Arrow Conference (NOAC) will be held August 3-8, 2020 at Michigan State Unviversity.
We expect the cost will be between $800- $1,200. To help lodge members we have started taking reservations and payments now.
We do not currently know how many slots we will get or what the youth to adult ratio will be. Refunds will be available if we can't honor all the reservations.
http://www.yustaga385.com/event/noac-2020/2417780
2019 Chapter?Rotation List

DUTY?

Ordeal
Fellowship
Pow Wow

Kitchen

Woapalanne
Appalachee
Oschambo

Dining Hall

Appalachee
Oschambo
Choctaw

Colors, Grace, Religious Services

Oschambo
Choctaw
Woapalanne

Camp Clean-up

Choctaw

Woapalanne

Appalachee