ORDEAL WEEKEND
March 3rd-5th
Come out and help with the projects and welcome our new brothers into the lodge
If you have not done sealed your membership by doing your brotherhood, and have been an ordeal member for more than 10 months, you can do your brotherhood this weekend.
To register: http://www.gulfcoastcouncil.org/event/2034469
(If you are an candidate, please use the forms you received at the callout or were mailed to you to register)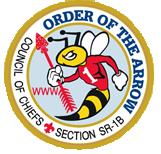 SECTION SR-1B CONCLAVE
April 28th-30th
Camp Alaflo
Come and enjoy a weekend of training, fellowship, games, patch trading, and more with the other lodges of Section SR-1B.
You can still register until March 24th, but you will not be guranteed patches and you can't order trading post items.
To register: http://www.yustaga385.com/event/conclave-2017/2067701
SPRING FELLOWSHIP
May 5th-7th
Come out to STSR for a weekend of fun, fellowship, and good food.
To register http://www.gulfcoastcouncil.org/event/2034580
OA WORKDAY AT STSR
Come out and help camp get ready for summer camp
Please register so that we can get a count for food.
To register: http://www.gulfcoastcouncil.org/event/2034758
Pay your 2017 dues here:
2017 Chapter Rotation List

DUTY

Ordeal
Fellowship
Pow Wow

Kitchen

Choctaw
Woapalanne
Oschambos

Dining Hall

Appalachee
Choctaw
Woapalanne

Colors, Grace, Religious Services

Woapalanne
Oschambos
Appalachee